The annual "Living Proof " reenactment was held April 5 and 6 at Muncie Central High School, including a fatal crash scene in Central's parking lot. Despite the rain and wind, hundreds of volunteers and area residents attended. The event coincides with April's designation as Alcohol Awareness Month, and is sponsored by the Delaware County Prevention Council (DCPC), along with dozens of other organizations and 150 volunteers.
"Living Proof" illustrates the dangers of drinking and driving during spring's parties, graduation and prom. It is illegal to drink under the age of 21 in Indiana. "Living Proof" reminds parents and teens the consequences of drinking and driving series of realistic scenes at Muncie Central High School. It is also a reminder to parents hosting parties that those celebrations should be alcohol free for those under 21.
Delaware County PRIDE Team members portrayed teens impacted by alcohol abuse, but the majority of the actors at the event were actual police and fire department personnel, and other agencies, such as prosecutors, judges, attorneys, and EMS staff.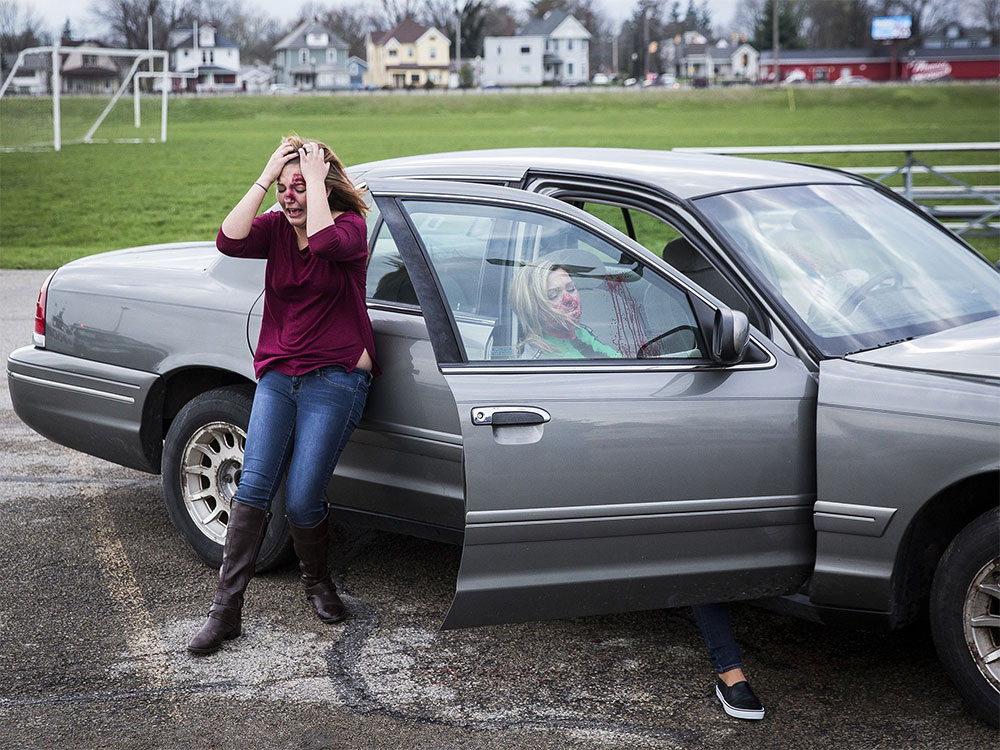 Photo credit: Jordon Kartholl/The Star Press
Special thanks to:
911 Dispatch
Albany EMS
American Red Cross
Ball State University Police Dept.
Ball State Practicum Program
Brian Blair Studios
Cowan Fire Department
Daleville Fire Department
Daleville Police Department
Delaware County Circuit Court Judges
Delaware Co. Community Corrections
Delaware County Coroner's Office
Delaware County Court Staff
Delaware County EMS
Delaware County Prevention Council *
& PRIDE Team members and parents
Delaware County Prosecutor's Office
Delaware County Sheriff's Office
Drs. James & Gail Stewart, OD*
Eaton EMS
Eaton Police Department
Five Star Driving Education Center*
Gaston Fire Department
Hamilton Township Fire Department
Hiatt Printing
Indiana State Police
Indiana State SADD
IU Health ER/Trauma Unit
IU Health Lifeline Helicopter
Ivy Tech School of Nursing
Jeffers Driving Academy*
JROTC
KLS Digital
Marilyn Kay Walker, Center Township Trustee*
Mayor Dennis Tyler*
Michael Osborne*
Millennium Productions
Muncie Area State Farm Insurance Agents*
Muncie Central High School Staff
Muncie Fire Department
Muncie Police Department
Northwest Wrecker
Normandy Flower Shop
Outfitter
Parsons Mortuary
Selma Police Department
Sheriff Ray Dudley*
Woof Boom Radio-WLBC
Wapahani High School RADD
Yorktown Fire Department
Yorktown Police Department
and others
*- Denotes financial sponsor
Living Proof Planning Committee:
Sgt. Bruce Qualls (Chairman) – Muncie Police Department
Pat Hart – Delaware County Prevention Council
Dee McKinsey – Delaware County Prevention Council
Hayley William – Delaware County Prevention Council
Judge Linda Ralu Wolf – Circuit Court Judge
Ken Mace – Delaware County Probation Dept.
Mitch Cassell – Delaware County Community Corrections
Steve Lindell – WLBC Radio
David Miller – Muncie Fire Department
David Spence II – Delaware County Sheriff's Office
Kip Curtis – Delaware County Sheriff's Office
Teresa Hardman – Ivy Tech School of Nursing
Kelli Vannatter – IU Ball Memorial Hospital Trauma Unit
Roger Overbey – Millennium Productions
Brian Blair – Brian Blair Studios