Jenifer Moore – Executive Director
jenifer.moore@dcpreventionpartners.org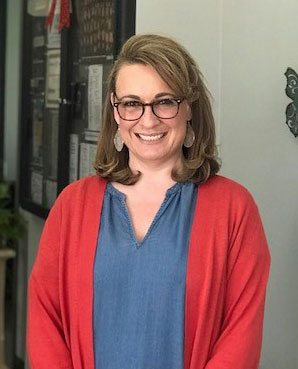 Jenifer Moore is a grant-writer, program creator, and public relations professional who works tirelessly to bring resources for the benefits of the communities she works and lives. Jenifer spent 15 years working to help the Yorktown Public Library become the community resource first envisioned when her mother and grandmother started a volunteer ran two-room library more than two decades ago.
Jenifer has brought in funds and contributions from local community organizations and businesses since she started her career. She has also secured funds from world-wide funding sources in her community. She works hard because she believes that access to quality programs should be available to everyone.
Jenifer took over as Executive Director of the Delaware County Prevention Council in May 2019.  Over the past two years she worked to create strong relationships with law enforcement, treatment, and other prevention providers to help reach the council's mission to reduce and prevent substance abuse among youth and adults in our county.
Jenifer is a Muncie native graduating from Yorktown High School and Ball State University. Her education background in psychology, social work, adult education, and executive development provide the foundation for her professional passions.
Jenifer enjoys spending time with her husband, Jason, of 26 years and their three daughters.  Jason is a Manager of Software Engineering at finvi (formerly Ontario Systems) and has a long history of coaching softball for all three of their girls.  He also likes to volunteer for Habitat for Humanity builds as often as he can. Her oldest daughter, Isabel, is a 4th grade teacher at Elwood Intermediate School and assistant varsity softball coach at Daleville High School. Twin daughters, Ella and Grace, are thirteen years old and attend Yorktown Middle School. The twins play volleyball and softball for their school as well as club through Yorktown Volleyball Cub and Indy Crush Fastpitch Softball.
Jenifer looks forward to each and every fall when she and her family coach a baseball team of athletes with special needs for the Yorktown Challenge League. Her whole family is committed to the sport of softball and she finds this as a great way to give back to her community.