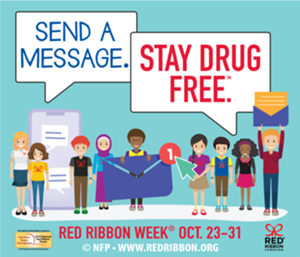 2020 National Red Ribbon Week
October 23-31

The Delaware County Prevention Council is excited to sponsor the 25th Annual Red Ribbon Community Breakfast! The Community Red Ribbon Breakfast will take place on Tuesday, October 20, 2020 from 9:00 am – 10:30 am on Facebook Live and streaming on the DCPC website. This year's Red Ribbon breakfasts will be donated to community workers and those affected most by COVID-19. We will deliver over 700 meals to local police officers, firefighters, EMT's, nurses, doctors, nursing home staff, and not for profit organizations that have made a difference during this difficult time. This year's event will include Kim Morrow, a woman who lost her 17-year-old daughter, Amber, in a car accident due to drinking and driving. Emily, Amber's little sister, will also speak. A Delaware County resident who has personally dealt with addiction and is currently in recovery will also be a featured speaker. As always, the breakfast will include a performance by the Delaware County PRIDE Team. This unified team is comprised of teenagers from all eight high schools in our county. These students live an alcohol-free, tobacco-free, drug-free lifestyle and are role models for the youth of all ages in Delaware County; they encourage other students to choose a drug-free life.
We hope you will be able to join this virtual event!
Red Ribbon Silent Auction
Runs from October 6th – October 20th
We will be auctioning off three amazing items that will be released on October 6th beginning at 10am. There will be a minimum bid for each item; with a $5 minimum increment increase. The auction will close on October 20th at 5pm and bidding will take place on Facebook.