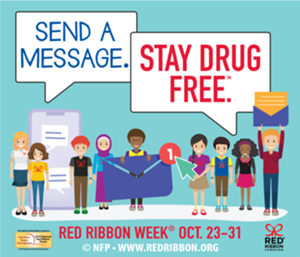 2019 National Red Ribbon Week
October 23-31

The Delaware County Prevention Council is excited to sponsor the 24th Annual Red Ribbon Community Breakfast! Hosted at the Horizon Convention Center on Tuesday, October 22, 2019, from 7:00am to 9:00am. Tickets are on sale now. Performances by the Delaware County PRIDE Team and this year a Panel of experts will discuss local community substance abuse and miss use issues.
We hope to see you there!
Once again, we will be holding a Silent Auction during the Breakfast. There will be lots of wonderful items available for you to bid on. If you would like to donate a silent Auction item, please contact DCPC at: 765-282-7988,